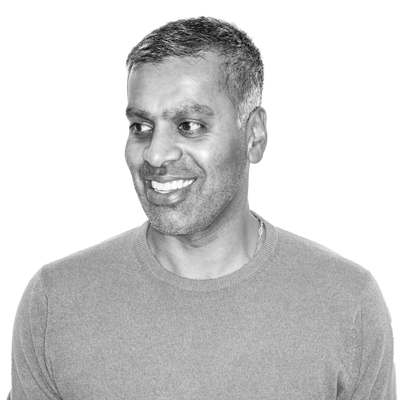 Sudhir Venkatesh works with executives to address 3 inter-related leadership challenges: Using information effectively to develop team and firm strategy; Communicating with, and achieving buy-in, from constituencies; Harnessing digital technologies for consumer engagement. A specialist in consumer research and organizational behavior, Venkatesh works with leaders in public sector agencies and private firm, and currently advises several Fortune 500 CEOs and executive teams.
Venkatesh has held senior leadership positions at the Department of Justice, Ivy League Universities, and top Silicon Valley technology companies. Most recently, after Mark Zuckerberg placed Venkatesh's best-selling memoir, Gang Leader for a Day, on his 2015 Best Book list, Venkatesh served as Head of Integrity Research for Facebook. His teams built products for consumer safety, he served as one of Facebook's principal liaison with government agencies, and led the development of Facebook's first Transparency Report. Venkatesh then moved to Twitter, where he helped Jack Dorsey and the executive team build the company's first Social Science Innovation Center, a team that set internal corporate strategy and that drove corporate policymaking. He then served for two years as Twitter's Director of Health Research. Before that, Venkatesh was a Senior Advisor to Director Robert Mueller's team at the FBI.
With a background in civic communities, public sector agencies, and private firms, Venkatesh now actively works with CEOs of tech startups as well as Fortune 500 companies to build high-performing teams and incorporate digital tools to amplify consumer engagement.  As part of his coaching & consulting practice, Venkatesh developed the Fast Research method, a tool which trains executives to use information smartly and quickly in conditions of risk and uncertainty. This technique enables leaders to diagnose their internal DNA, unblock their teams and quickly achieve buy-in so that their teams can be aligned for success.
Venkatesh is currently the William B Ransford Professor at Columbia University, where he teaches courses on organizational design, technology, and human behavior. He is the author of five books and is the host of the successful Freakonomics Radio podcast—Sudhir Breaks the Internet (ranked #2 in Spotify's Tech podcasts; first season Top 50 on Apple Tech podcasts). He has published dozens of academic articles and his writings and stories have appeared in the New York Times, the Washington Post, This American Life and NPR's Fresh Air. His books have received Best Book award from The Economist and Slate.com.