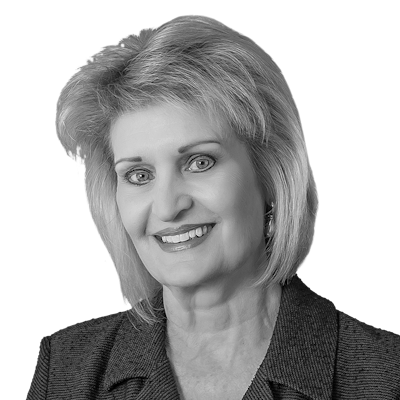 Dianna Booher is the bestselling author of 49 books, published in 62 foreign-language editions. She works with organizations to help them communicate clearly and with leaders to expand their influence by a strong executive presence.
Her personal development topics include leadership communication, executive presence, and sales presentations, and book writing/publishing.
Her books include these:
• Faster, Fewer, Better Emails (Berrett-Koehler)
• Communicate Like a Leader: Connecting Strategically to Coach, Inspire, and Get Things Done (Berrett-Koehler Publisher)
• What MORE Can I Say? Why Communication Fails and What to Do About It (Penguin Random House)
• Creating Personal Presence: Look Talk, Think, and Act Like a Leader (Berrett-Koehler Publisher)
• Communicate With Confidence: How to Say It Right the First Time and Every Time (McGraw-Hill)
National Media such as Good Morning America, USA Today, The Wall Street Journal, Investor's Business Daily, Bloomberg, Forbes, Fast Company, FOX, CNN International, NPR, Success, Entrepreneur, New Strait Times, and Indian Management have interviewed her for opinions on workplace communication.
Clients include IBM, ExxonMobil, Chevron, BP, Conoco-Phillips, Lockheed Martin, Raytheon, Bell Helicopter, PepsiCo, Frito-Lay, JP Morgan Chase, Bank of America, Federal Reserve Banks, Lucile Packard Children's Hospital, MD Anderson Cancer Center, Novartis, Siemens, Sabre, U.S. Department of the Navy, and NASA, to name a few. She has delivered training to more than one-third of the Fortune 500.
Internationally, Booher designed and developed communication workshops that have been taught for clients in Azerbaijan, Brazil, Canada, China, England, Kuwait, Malaysia, Mexico, New Zealand, The Netherlands, Philippines, Qatar, Scotland, South Africa, Sweden, and Trinidad/Tobago.
In addition to speaking, developing and delivering training, consulting, and writing books, she's also a regular blogger for The CEO Magazine, Forbes.com, HuffPost, and Microsoft.
Dianna has also been recognized with the following awards and distinctions in the training, speaking, and authorship/publishing industries:
IBM's Star Quality Award (highest rated outside training supplier of the year)
Frito-Lay Women-Owned/Minority Supplier of the Year (Technology Division)
Top 200 Most Influential Authors in the World (Richtopia List, 2017 and 2018, #55)
21 Top Speakers for the 21st Century (list by Successful Meetings magazine)
Top 100 Thought Leaders in America (Leadership Excellence magazine)
Top 100 Minds in Personal Development (Leadership Excellence magazine)
CPAE Speaker Hall of Fame® (induction by National Speakers Association)
Global Gurus Top 30 Communicators (2012-2022)
Top Leadership 500 (by Leadership Excellence/HR.com)
Axiom Award Silver Medalist 2018 (Business Book category)
Executive Soundview Summaries: Best 25 Business Books of the Decade
A Cindy Award in the New York Film Festival—Corporate Training Division
Book Club selections: Newbridge Executive Book Club, Business Week Book Club, Money Book Club, Macmillan Executive Book Club, Fortune Book Club, Writers Digest Book Club
She has a master's degree from the University of Houston. Her body of work is featured on her website at BooherResearch.com.